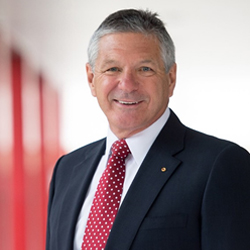 Professor John Wilson AM
BSc(Hons) MBBS PhD FRACP FCCP President and Chair of the College Board, Royal Australasian College of Physicians (RACP)
John Wilson graduated in Science with BSc(Hons) from The University of Melbourne in 1975 with a major interest in physics and information technology. He then qualified in Medicine in 1980 (MBBS). His physician training was at The Royal Melbourne Hospital, with a special interest in intensive care and respiratory medicine. He studied the role of inflammation in asthma and completed his PhD before moving to the UK to join a major asthma research group in 1988.
After returning to Australia in 1990, he spent 2 years at Royal Melbourne Hospital, then he was appointed as Respiratory Physician and Head of the Cystic Fibrosis Service at The Alfred Hospital, Melbourne. In this role he has received DHS Centre of Excellence, NHMRC and ARC funding, as well as service achievement awards. He is responsible for the treatment of patients with different lung disorders, including cystic fibrosis, asthma and pneumonia. His research interests include the use of video-conferencing in delivering care programs, the application of electronic health records to medical systems and new pharmacological treatments (including gene-potentiating agents) in CF lung disease.
He has been Chair, Senior Medical Staff Association at Alfred Health and served on the Ethics Committee.
John was elected to the position of RACP President-Elect in May 2018 and commenced his two-year term as President and Chair of the College Board in May 2020. John is a consultant to government and industry bodies in Australia and overseas.
Back to Speaker Profiles