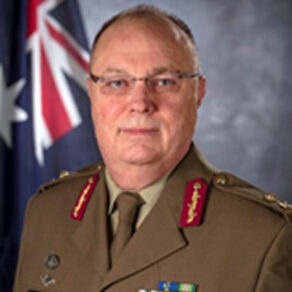 Graeme Shirtley Oration – MAJGEN Charles New
AMMA PATRON
Major General New was born 15th June 1959, Sydney NSW. He completed his Higher School Certificate at Waverley College Sydney (where he was a Cadet Under Officer) and graduated with his primary medical degree Bachelor of Medicine Bachelor of Surgery in 1985, UNSW. He enlisted in 1992 as a Specialist Service Officer and was posted to 1st Parachute Surgical Team (PST) at Holsworthy Sydney. Subsequent to his specialty training in Orthopaedics (FRACS Orth), MAJGEN New undertook sub-specialist spinal surgery training in the UK in 2003 and was posted to 23rd Parachute Field Ambulance Aldershot on exchange, serving in their Forward Squadron as an Orthopaedic Surgeon. In support of Specialist Airborne Operations, he completed a suite of courses to deliver the scope of service required. MAJGEN New has deployed with Australian forces to Rwanda, East Timor and Banda Aceh and has held appointments with 1PST and 1HSB (Health Support Battalion) in Sydney and staff appointments SO1 Reserve Health 2000, SMO 8 Brigade 2007, Consultant Surgeon to SGADF 2008–2014, Chairman Orthopaedic Consultative Group JHC 2009 onwards.
MAJGEN New is regularly consulted on complex clinical matters and governance issues both within Australia and overseas. MAJGEN New has completed numerous military courses since enlistment both in the UK and Australia: the Definitive Surgical Trauma Course 2003 and was Directing Staff (military module) on subsequent courses, the Early Management of Severe Trauma 2003, the Deployed Surgeons Obstetric and Gynaecology Skills Course 2005, the LOAC 2005, and was Directing Staff Pre-Hospital Trauma Course Ex Primary Survey. He is a graduate of the Medical Strategic Leadership Program AMEDD, San Antonio and the Pentagon, USA, in 2011.
MAJGEN New has many awards both civilian and military including OAM (civilian) for services to medicine, a Deputy Chief of Joint Operations silver commendation Op Sumatra Assist as a Senior Surgeon, the Meritorious Unit Citation OP TAMAR RWANDA and the Bruce Shepherd Medal for Services to Medicine 2019.
MAJGEN New has been appointed Surgeon General ADF-R effective July 2019. MAJGEN New has led his professional peer group with numerous national and state appointments in senior leadership, governance, administration and training. He is an Adjunct Professor at Sydney University (Director of Education MSK) and is a member of its peak Ethics Committee (HREC1). He is soon to complete a Doctorate of Clinical Surgery with strong emphasis on governance, safety and leadership. MAJGEN New is a member of multiple civilian and military learned societies and has held senior appointments. He is a member of the Society of Military Orthopaedic Surgeons (international). He is an Associate Fellow of the Royal Australian College of Medical Administrators and the Australasian College of Aerospace Medicine.
MAJGEN New is married to Dr Heather New and has two adult sons. He enjoys fishing, motorsports and Rugby League. He has a particular interest in international and military history.
Back to Speaker Profiles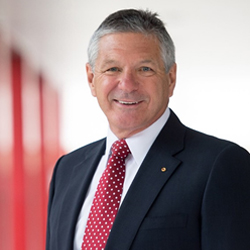 Professor John Wilson AM
BSc(Hons) MBBS PhD FRACP FCCP President and Chair of the College Board, Royal Australasian College of Physicians (RACP)
John Wilson graduated in Science with BSc(Hons) from The University of Melbourne in 1975 with a major interest in physics and information technology. He then qualified in Medicine in 1980 (MBBS). His physician training was at The Royal Melbourne Hospital, with a special interest in intensive care and respiratory medicine. He studied the role of inflammation in asthma and completed his PhD before moving to the UK to join a major asthma research group in 1988.
After returning to Australia in 1990, he spent 2 years at Royal Melbourne Hospital, then he was appointed as Respiratory Physician and Head of the Cystic Fibrosis Service at The Alfred Hospital, Melbourne. In this role he has received DHS Centre of Excellence, NHMRC and ARC funding, as well as service achievement awards. He is responsible for the treatment of patients with different lung disorders, including cystic fibrosis, asthma and pneumonia. His research interests include the use of video-conferencing in delivering care programs, the application of electronic health records to medical systems and new pharmacological treatments (including gene-potentiating agents) in CF lung disease.
He has been Chair, Senior Medical Staff Association at Alfred Health and served on the Ethics Committee.
John was elected to the position of RACP President-Elect in May 2018 and commenced his two-year term as President and Chair of the College Board in May 2020. John is a consultant to government and industry bodies in Australia and overseas.
Back to Speaker Profiles